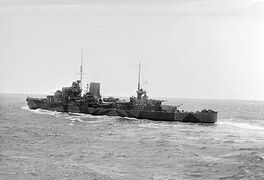 A New Zealand Leander Class Light Cruiser
Started the war near Port Moresby, joined there with ANZAC cruiser force.
Joined Task Force 132 At Port Moresby to Raid Japanese Landings at Finschhafen and Rabaul (12/16/1942)
Finschhafen Raid (12/18/1941)
5 Japanese Ships Sunk
Rabaul Raid (12/19/1941)
6 Japanese Ships Sunk
Protected Port Moresby from Air Raid (12/31/1941)
Assigned Task Force 9 to raid Effate (1/20/1942)
Ordered to Raid Rossel Island (3/9/1942)
4 Japanese Ships sunk at Rossel Island (3/11/1942)
Took 2 Shell Hits
Repairs finished at Sydney (3/17/1942)
Assigned to support Invasion of Rossel Island (3/17/1942)
Ordered to support invasion of Guadacanal (3/25/1942)
Attacked Japanese Harbor at Lunda (3/27/1942)
8 Ships sunk including IJN Ashigara and IJN Natori.
5 more Ships sunk (3/28/1942)
Raided Salamua (4/12/1942)
8 Japanese Ships Sunk
Intercepted Japanese Task force near Port Moresby (5/5/1942)
Took 3 Shell hits
2 Japanese Ships sunk including IJN Naka
Took Part in First Battle of Port Moresby (5/6/1942)
Took 6 Shell hits causing Fires
Repairs Finished at Sydney (8/28/1942)
Escorted HMS Formidable with HMS Devonshire and HNLMS Java(9/20/1942)
Protected convoy from Japanese Submarine with HMS Devonshire, HMAS Canberra, and HNLMS Java near Coffs Harbor (10/23/1942)
Supported invasion of Rossel Island with HMS Ramillies, USS South Dakota, HMS Devonshire, HMAS Canberra, HNLMS Java, HMS Danae, USS Marblehead, USS Juneau, and HNLMS Van Heemskerk (11/3/1942)
Disrupted Japanese invasion of Shortlands with HMAS Canberra, HMS Devonshire, and HNLMS Java (11/17/1942)
Supported invasion of Finschhafen with HMS Devonshire and HNLMS Java (12/29/1942)
Supported invasion of Gasmata (2/5/1943)
Supported Invasion of Kavieng with HMS Newcastle and HNLMS Java (5/23/1943)
Ad blocker interference detected!
Wikia is a free-to-use site that makes money from advertising. We have a modified experience for viewers using ad blockers

Wikia is not accessible if you've made further modifications. Remove the custom ad blocker rule(s) and the page will load as expected.