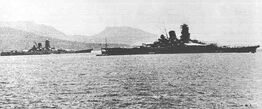 Welcome to the War in the Pacific LP Wiki

Edit
The War in the Pacific LP is an encyclopedia related to Grey Hunter's War in the Pacific Lets Play on the Something Awful forums. The LP can be found here:
http://forums.somethingawful.com/showthread.php?threadid=3238049&userid=0&perpage=40&pagenumber=1

The wiki format allows anyone to create or edit any article, so we can all work together to create a comprehensive database for the Lets Play.
Latest activity
Edit
Ad blocker interference detected!
Wikia is a free-to-use site that makes money from advertising. We have a modified experience for viewers using ad blockers

Wikia is not accessible if you've made further modifications. Remove the custom ad blocker rule(s) and the page will load as expected.